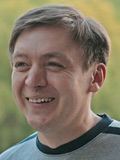 Dmitry Ushakov
Director of Product Management
LEDAS
avenue Lavrent'ev, 6
Novosibirsk, 630 090
Russia
phone: +7 383 335 65 04
fax: +7 383 335 62 56
E-mail: ushakov@ledas.com
LinkedIn: www.linkedin.com/in/dmitryushakov

Dmitry Ushakov is the Director of Product Management at LEDAS Ltd., a Russian software development company specializing in providing end-user variational design tools, technology components, and software development services for the CAD/CAM/CAE/PLM market. Having 18 years of experience in development of science-intensive software, Dmitry is a visionary of a new technology for the CAD next generation. He published several white papers, including Variational Direct Modeling: How to Keep Design Intent in History-Free CAD and How to Express Design Intent in Rhino 3D, which defined the foundation of LEDAS Driving Dimensions product line.
Prior to taking his current position, Dmitry was LEDAS CTO. He initiated and supervised development of LGS, the LEDAS geometric constraint solver, which defined the LEDAS business model for successive years.
In 1999-2001, Dmitry was temporarily assigned to Dassault Systemes (France), where he worked on the development of a core mathematical solver and end-user software components for knowledge-based engineering in CATIA V5.
In 1992-1999, Dr. Ushakov worked at Russian Research Institute for Artificial Intelligence, where he did scientific research in the field of constraint programming with application for solving broad ranges of constraint satisfaction problems in various domains including CAD. With his colleagues, he published more than 50 research papers.
Dmitry Ushakov graduated from Novosibirsk State University, where he successively received BSc (1993) and MSc (1995) in mathematics, and PhD in computer science (1998).
In addition to his main activity, Dmitry is a leading member of the board of isicad.ru/isicad.net web portals. He regularly published his notes and reviews on different CAD-related web resources; here are few examples in English: